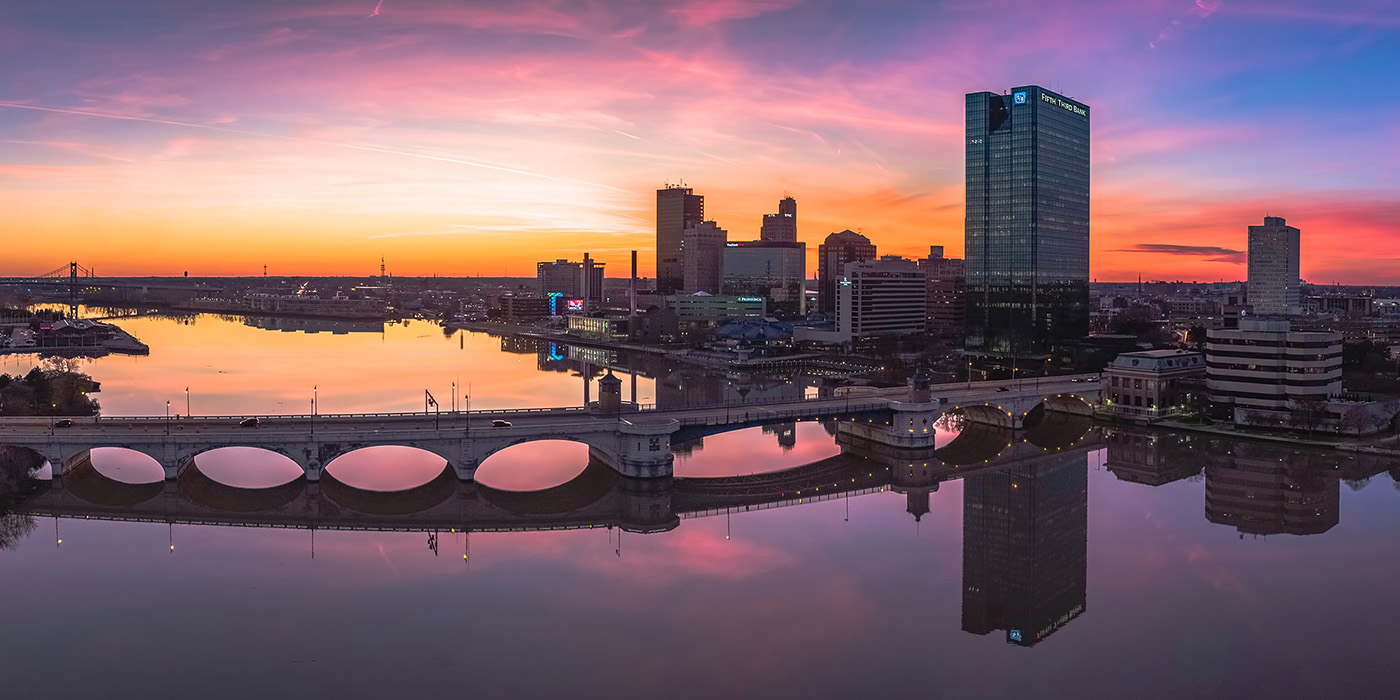 The Glass City Metropark and Riverwalk project is being funded through a transformational public-private partnership, including support from the voters of Lucas County, local, state and federal government partners, corporations, foundations and individual contributions.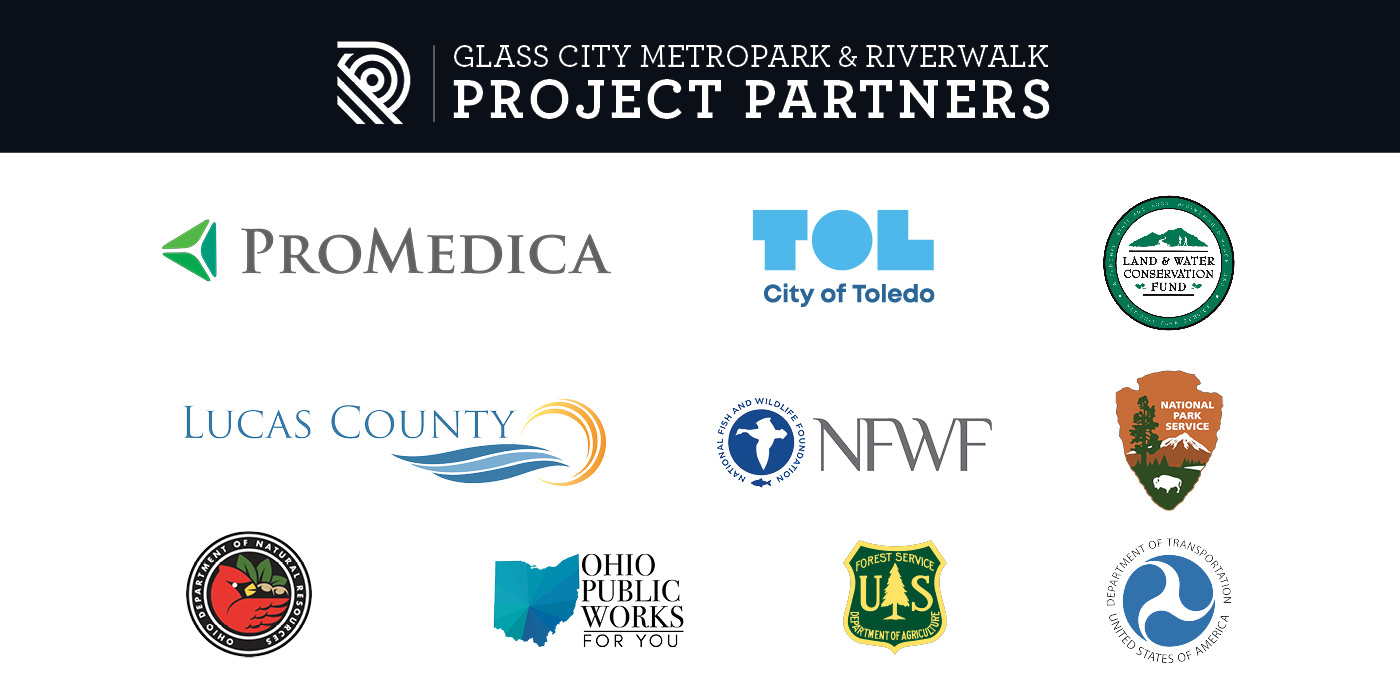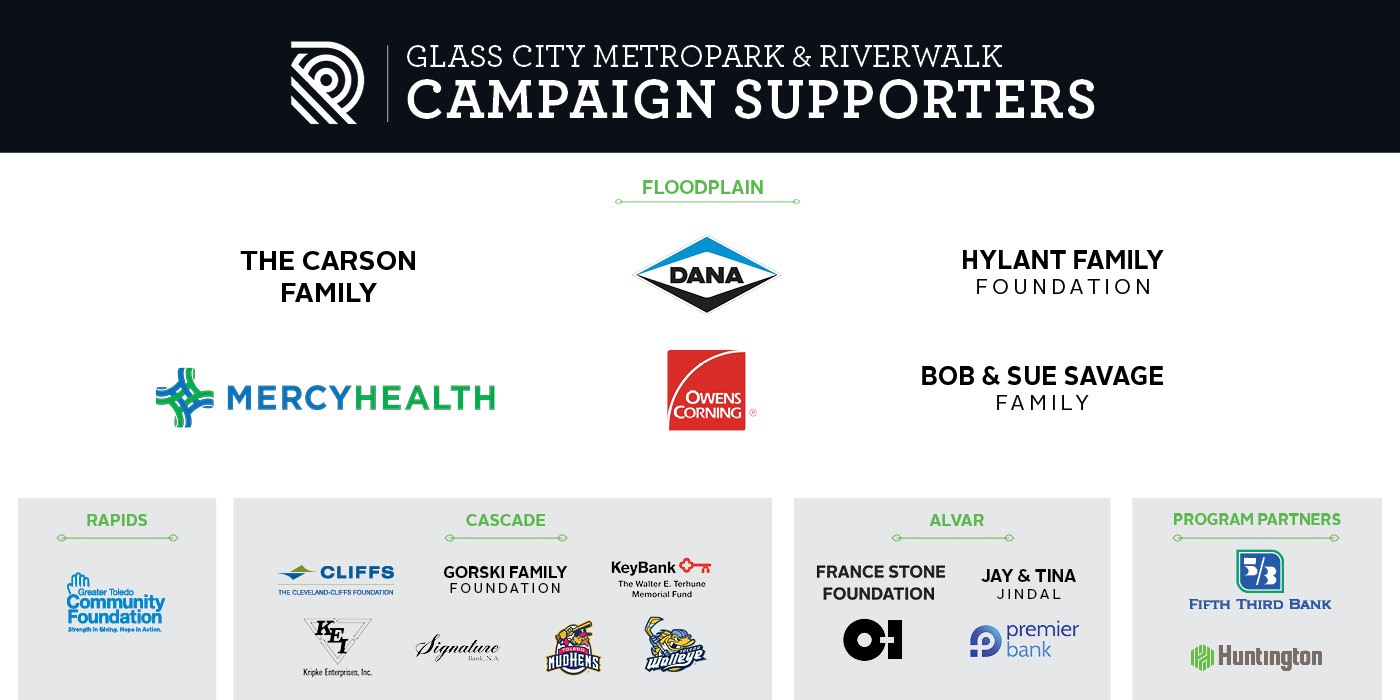 Glass City Riverwalk Supporters
Watershed
US Department of Transportation
Ohio Public Works Commission
Floodplain
The Carson Family
Dana Incorporated
Hylant Family Foundation
Mercy Health
Owens Corning
Bob and Sue Savage Family - Mr. & Mrs. Robert C. Savage Fund of the Greater Toledo Community Foundation
National Park Services
Anonymous
Rapids
Greater Toledo Community Foundation
National Fish and Wildlife Federation
Cascade
Cleveland-Cliffs Foundation
Gorski Family Foundation
KeyBank National Association Trustee for the Walter E. Terhune Memorial Fund
Kripke Enterprises
Ohio Department of Natural Resources
Signature Bank, N.A.
Toledo Mud Hens and Toledo Walleye
Anonymous
Alvar
France Stone Foundation
Jay and Tina Jindal -Jay and Valentina Jindal Fund of the Greater Toledo Community Foundation
O-I Charities Foundation
Premier Bank
US Forest Service
Tributary
Bill and Cathy Carroll
Adele M. and John R. Skolits
John S. and Yolanda Danyi Szuch Family
Sue Wilson
Headwaters
Fred and Carri Dannhauser
UPS Foundation
Tim and Robin Whitney
Shoreline
Joseph and Judith Conda
Leo and Sharon Knox
S&D Capital
The Yarder Mfg. Co.
Supporter
Ben Bramson
Lynn Cerveny
Janice Farmer
Jodie Goldstein in memory of Paul R. Sullivan, Sr.
Steve and Pat Hamilton
Ryan Kindinger
Gary Krieger
Cheryl Layman
Mary Madin in memory of Kent Hagemeyer
Pamela Martin
Steve and Patricia McLaughlin
Timothy Mohler
Donna Repp
Cynthia Rothbard
Mitchel Skotynsky
Rebecca Small in honor of Steve Hamilton
Stephanie Snyder
Michael Swartz
Laurie Syring in memory of Paul R. Sullivan, Sr.
Matthew Tewers
Trust Company Family Officies
Mel and Annette Wicks
Patricia Winzeler
Judge Jack Zouhary, U.S. District Court, in memory of Jo Ann Lillibridge

Program Partners
Fifth Third Bank
Huntington Bank
Legacy Supporters
Arthur Hills
Andy and Rose Kandik Family
Leonard Rosenberg
 
ProMedica
The Arts Commission
City of Toledo
     Toledo City Council
The Collaborative
Bergmann PC
Bryony Roberts
ConnectToledo
Destination Toledo
Downtown Toledo Development Corporation
The EDGE Group
East Toledo Family Center
Graphite Design+ Build
Kokosing Construction Company
Lathrop | Turner Construction Company
LISC Toledo
Lucas County
     Lucas County Commissioners
     Lucas County Planning Commission
Mannik & Smith Group
MKSK Studios
National Fish and Wildlife Foundation
National Museum of the Great Lakes
National Park Service Land and Water Conservation Fund
Neighborworks
Northwest Ohio Building Trades
Ohio Department of Natural Resources
Ohio Public Works Commission
One Voice for East Toledo
PFM Asset Management
SHR 3D Visual Solutions
Signature Bank, N.A.
SmithGroup JJR
SPENGLER NATHANSON P.L.L.
Squire Patton Boggs
Tetra Tech
Toledo Design Collective
Toledo Metropolitan Area Council of Governments
Toledo Police Department
Toledo Public Schools
Toledo-Lucas County Port Authority
U.S. Department of Transportation
U.S. Forest Service
United Way of Greater Toledo
WXY Architecture + Urban Design