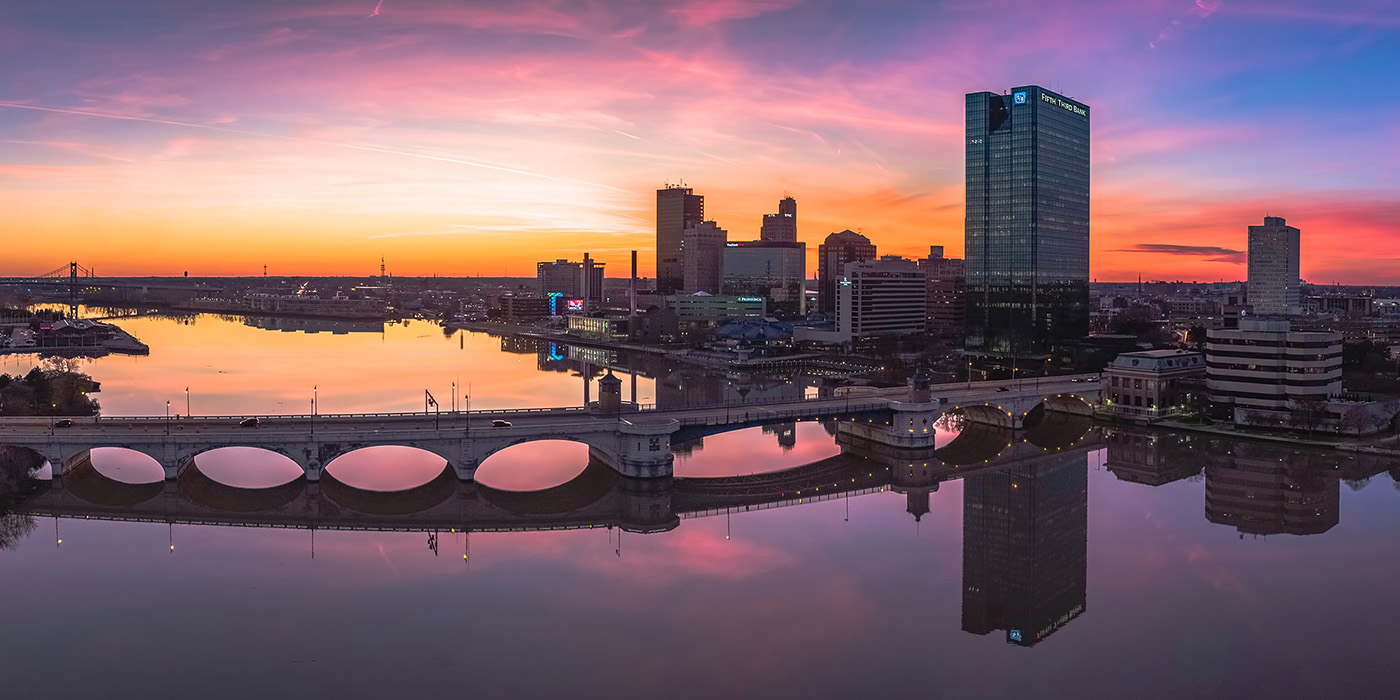 Riverwalk Founding Supporter
Join us as we complete the most transformational project in Toledo's history...become a Founding Supporter today!
Donate to become a Riverwalk Founding Supporter
A transformation is underway along the banks of the Maumee River. From a brownfield to a world-class public park comprised of urban forest, native upland prairie habitat, and recreation 365 days a year, Glass City Metropark and Riverwalk will connect us all back to the Maumee River through hundreds of acres of high-quality public greenspace, trails, and programs for our entire community to enjoy.
It's more than just a park.
It is 300 acres of greenspace that will stitch together six neighborhoods via five miles of multiuse trails and provide equitable access to clean, safe, and natural experiences.
It is the creation of naturalized shoreline, wetland habitat, and an urban forest (17+ acres of trees) that will reduce the storm water runoff to the impaired Maumee River, the largest watershed on the Great Lakes.
It is economic progress, transforming a once neglected, stagnant former industrial site, bringing new vitality to our riverfront while strengthening our downtown communities.
It is a world-class riverfront park, right here in northwest Ohio.
In June we will celebrate our first major project milestone – the completion of phase 2 of Glass City Metropark. This is just the beginning of the Riverwalk, and we want to invite YOU to be a "Founding Supporter" of one of the most transformational projects in Toledo's history.
Make a gift or pledge of any amount to become a Riverwalk Founding Supporter by May 1 and be part of the first milestone celebration in a few special ways:
Receive an exclusive invitation to Glass City Metropark Ribbon Cutting Celebration activities being planned for June 8 – 11.
Receive an invitation to a special VIP concert experience at Glass City Metropark.
Receive invites to all other Founding Supporter events.
Receive a commemorative Founding Supporter t-shirt.
Gifts of any level will be recognized digitally.
Gifts or pledges of $250 or more will be recognized collectively on the donor wall.*
Gifts or pledges of $5,000 or more will be recognized with a special, individual plaque on the donor wall.
* Gifts or pledges made by May 1 will be included on the donor wall for opening weekend.
All gifts will directly support building and sustaining this tremendous riverfront park. You can create powerful, sustainable change for generations to come and start your legacy through a gift to this campaign today.
As a Riverwalk Founding Supporter, you will be part of transforming our community forever.
Your gift or pledge can be made over a 5-year period. If you are interested in a multi-year commitment, special recognition opportunities, or corporate sponsorship, please contact Ally Effler at 419-360-8242 or Ally.Effler@MetroparksToledo.com.
Thank you for your love of Metroparks and your belief in this vision for a thriving riverfront!